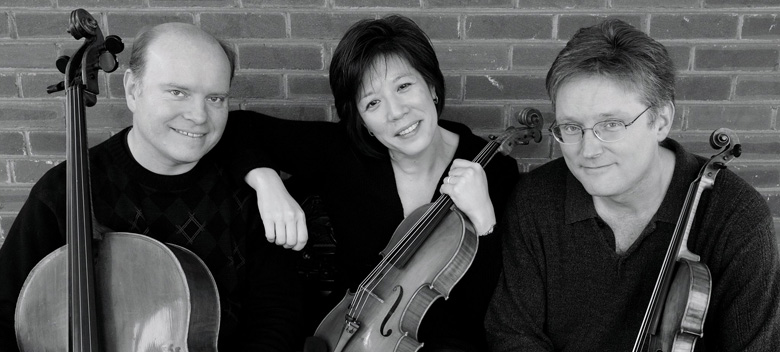 About the Aspen String Trio
The Aspen String Trio is one of the rare professional string trios performing and touring today. Summer faculty colleagues at the Aspen Festival and School, AST members have been playing together for more than twenty years: violinist David Perry, violist Victoria Chiang, and cellist Mike Mermagen.
Celebrated for virtuoso performance offered with humor and insight, AST performs the complete trios of Beethoven, Mozart, and Schubert, as well as lesser known blockbuster works by Dohnanyi, Hindemith, Martinů, Rozsa, Gideon Klein, Veress, Villa-Lobos and Ysaÿe, among others. 
Their many "themed" concert programs, all generously filled with commentary, include a Goldberg Variations lecture recital (SleeplessinLeipzig), Czech,Please! (music of Klein, Martinů, and Dvorak),  A Fugue Good Men (fugues of Mozart and Reger), a program of dances, Baroque to modern, and a "Degenerate" concert of music by composers tragically suppressed by the Nazi regime—music of profound beauty and hope from Krása, Gál, Klein, and Weinberg.
Recent engagements include the Los Angeles Music Guild and the National Gallery of Art, as well as residencies in Texas, Georgia, the Carolinas, Alabama, Delaware, Washington and Colorado. For six seasons AST was Ensemble-in-Residence at the University of Baltimore. During the 2017-2018 season the trio's tours include concert engagements and teaching residencies throughout Iowa, Georgia, South Carolina, and New York, often collaborating with host colleagues on piano quintets and quartets, and string sextets.
As teaching faculty at distinguished universities and conservatories, Trio members are committed to incorporating educational components into all residencies.  In addition to standard masterclasses, they offer a unique variety of classes and workshops covering topics such as The Business of Music, Poetry, Creative Writing, and Management, all developed to address aspects of students' professional lives, and to tie in Classical Music with other areas of their study.
The trio continues to develop its touring programs by increasing repertoire options and exploring the inclusion of narrator and video presentation: the Degenerate Music program of lesser-known composers will soon offer Weinberg's fantastic, recently discovered String Trio, Op. 48, and spoken word and visual components have been very successfully integrated into this and the Goldberg Variations program. New programs are always being developed as AST adds new repertoire. "Updating Traditions" will trace lineage and linkages in a program anchored by Mozart's monumental Divertimento in E-flat, K. 563 and John Harbison's recent string trio (2014) inspired by it.
The Aspen String Trio has just released its first recording: music of Mozart, Beethoven and Strauss.  Frequently heard on Baltimore's classical station WBJC, they are regularly featured on "Face the Music" and "Music in Maryland."  The Trio is currently recording the complete string trios and other music of Martinů for the Naxos label.
[ July 2017 ]
» Download PDF